Edited to include an unofficial re-upload of the first trailer (after the second trailer was released), because apparently Paramount Pictures wants to pretend the first trailer never happened, and removed it from Youtube.
Gee, just what we needed. Another laughable Sonic installment with no subtitle to identify it by. All jokes aside, hi. It's been a while. My last opinion piece of any kind was my Sonic Forces review, well over a year ago. Come to think of it, and speaking of missing subtitles, I guess I was supposed to write a Sonic '06 review somewhere along the way? Did I never publish that? I'll look into it.
But that's not why you're here. You're here for my take on the Sonic Movie. So I'll warn you right now. If you're looking for someone to share your rage and disgust with, you've come to the wrong place, and I'm sure you'll find plenty of that elsewhere. I intend to look at this from as objective of a standpoint as possible. With that out of the way, let's get started.
Obviously, no one's seen the actual movie yet, so this is more about my opinions on the trailer than on the movie as a whole. So let's start from the beginning. Sonic is fast. Even I, as a writer, have a hard time making sure that fact remains important, so I'd call it a good thing that this is what they decide on as the very first thing to show the audience. Human cop. So what? I prefer Sonic's world with a human population, or at very least, I prefer the games that do so. Given the human inclusion, filming the movie in live action makes sense enough to me. Would I have preferred a completely animated film? Yeah, probably. And it certainly would've alleviated a lot of the movie's fundamental issues as I currently see them. But they're trying to sell a movie to the masses, and an animated movie about a videogame character just isn't going to sell as well in that context.
References. I approve of references. It's the one easy way to appease fans in a way that makes no impact on the general audience. Not sure why they went with "Green Hills" instead of "Green Hill," but that's hardly worthy of complaint. And if you're going to complain that Green Hill Zone is overused, you can leave now. Obviously, this isn't Green Hill Zone, visually, musically, or otherwise, it's just a reference to a memorable location. And speaking of references, sound effects. The use of classic sound effects for rings, for spindashing and jumping, goes a long way in helping me personally connect this movie to the franchise that I grew up with. And it's not just Classic, either. I could be mistaken, but I believe at about 1:32 in the trailer, as a harpoon is being shot into the truck, a jump sound effect out of the 2000's era games can be heard.
Apparently, Sonic now generates electricity when he runs, which sticks to his quills even after they fall off. This is a fact that is constantly brought up throughout the trailer. Not exactly consistent with Sonic's representation in the games, but I'd call it well within creative liberty. If you've ever had experience with "The Flash," a DC Comics character, you may recall that this speedster does the same thing. In fact, The Flash learns to harness this power to throw lightning at his opponents. And while it's not exactly good realistic physics, there is a certain understandable logic to the idea that static electricity could build up on someone who runs fast enough as they rub against particles in the air. But that might not even be the answer here. As demonstrated a bit later, this could very well be the origin story to Eggman's use of animals to power his robots, a central element to the original Sonic games. It could be that, by this movie's explanation, all animals from Sonic's world (or planet, or dimension, or whatever they're going with, more on that later) generate this natural energy regardless of whether or not they can run fast, and Eggman learns to use this over the course of the movie. After all, even combined with a sonic boom, static electricity would hardly be enough on its own to knock out power to a whole quadrant of a country. It would seem there's more going on than just that.
Alright, this was bound to happen eventually. Let's talk design. To put it briefly…I'm very okay with this. To be fair, I did choose what is perhaps the most flattering shot in the entire trailer to put above. But I think that shot looks pretty darn good, actually. Sure, this new design doesn't look flattering from every angle. And sure, I dislike that his stomach is a different color than his muzzle. And sure, I'd rather him have gloves to cover up those freaky hedgehog fingers. And sure, I don't get why he isn't wearing socks. But other than that…I don't see much problem with this design. It looks like Sonic in live action. I've seen plenty of attempts to "fix" this design, but a vast majority of them end up looking even worse to me. Lets rewind a bit. A few months ago (and I'm actually kind of surprised that I never commented on it at the time. In fact, this movie's been announced since before the Chaos Project even started, yet I don't think I've ever once mentioned it on the site. Anyways…) some concept images for Sonic's style in this movie were leaked out. Here, look for yourself.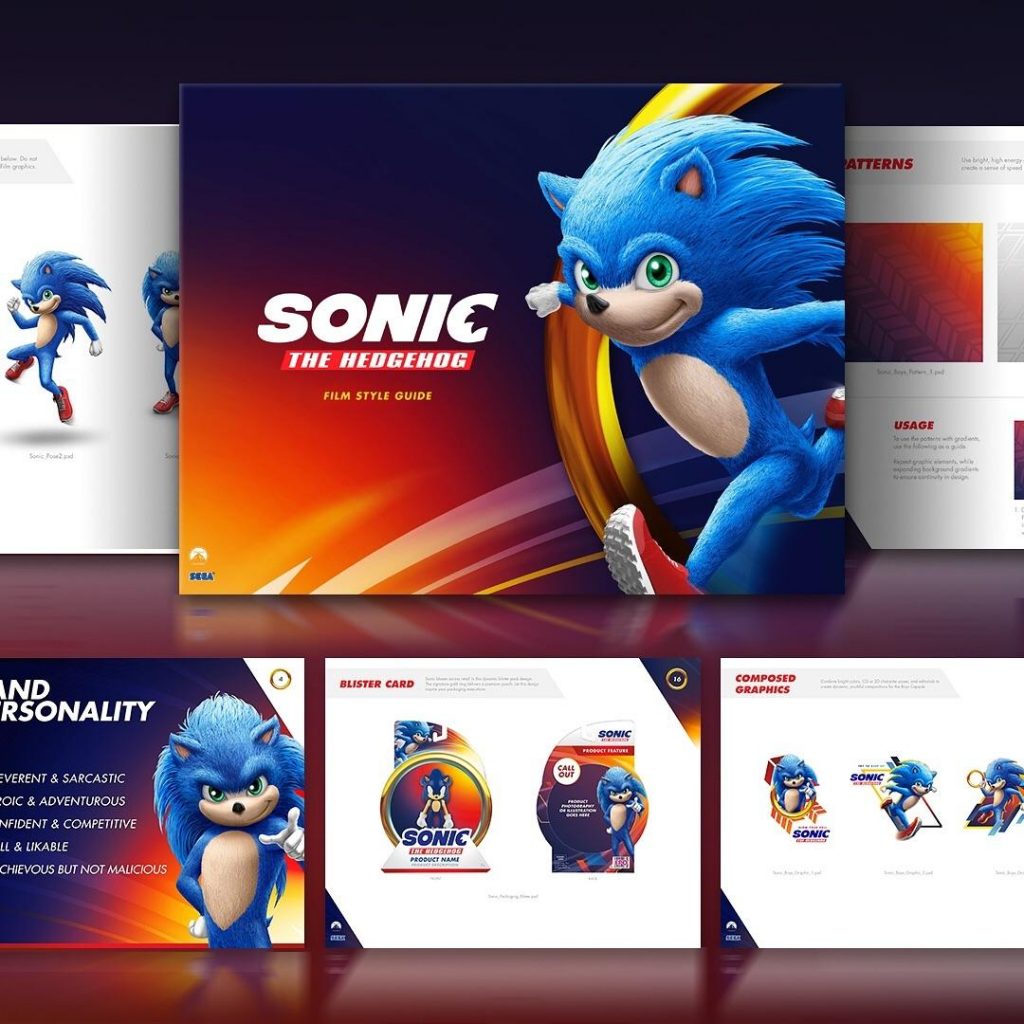 Like anyone else, I was a bit shocked at first glance. But, to be totally honest, it was that depiction on the bottom left, which may look a bit familiar to some people, which really sold me on the viability of Sonic's separated-eye, human-like proportions style. And since then…they made it even better. There is the issue of the stomach color, but other than that, I think they improved the shape of the eyes and muzzle, decreased the awkward prominence of the eyebrows, and just overall improved the body shape. Main point, the redesign is certainly shocking at first glance, but there's nothing about it that makes it "not Sonic". I certainly prefer this over certain fan interpretations I've seen of how Sonic might look in live action that came out before this movie was ever a thing.
Gotta go fast. There's the other thing about this particular scene in the trailer. Cringeworthy? Yes. But that doesn't mean I didn't laugh hysterically. Combine that with Sonic pretending to be a cat when discovered by a human, and the possible universe-crossing implications that the trailer gives off, and you've got yourself a nice pile of Sonic X references. And as I said before, I like references, especially when they're in regards to my personal favorite non-canon interpretation of Sonic. I suppose we should also start talking about the voice here. I like it. It's clear that they're going for a much younger interpretation of Sonic, one who can be called a "child," I'd guess perhaps 13 or 14. And, given that, this new voice works very well. It remains to be seen whether or not I prefer it to Roger Craig Smith, but I think that the potential is there. A bit hard to compare either way. Moving on…
Next up, Eggman. Or perhaps I should be calling him Robotnik? I actually find it rather odd that they never confirmed one way or the other in the trailer. But as the trailer goes on to show, it seems that this entire movie may be dedicated to the transformation of an eccentric scientist into the evil genius we now know as Eggman, so a name change to go along with that would certainly be fitting. How do I feel about him? Obviously, he doesn't look much like Eggman in the picture above. But the end of the trailer shows how that changes. As I said, they're starting him off as a normal, if eccentric, scientist, and I don't mind that they put their own design to that. He's practically a different person. But if we actually get to see this person become the Eggman we know, I don't see that as anything but a good thing. At least he has a mustache. But what about his character? Well…to be honest, I personally see a little bit too much…Jim Carrey (the actor for the character) in it. It's hard to explain exactly, but I just felt like a proper Eggman needs to be just a bit more threatening. Maybe threatening isn't the word, because I felt like even Sonic Boom got it just a bit better. Hard to explain. But regardless, if that part of his personality is brought in more strongly over the course of the movie, I see no problem with it.
Alright, so let's talk about the plot. It feels like very typical Hollywood-type reinterpretation stuff. Such and such magical or otherworldly creature winds up in a world that is otherwise identical to our own, the police/government/whatever wants to kill/study/whatever it, but the friendly human character teams up with the creature to get them back wherever they came from so they can be safe again. There's obviously some sort of save-the-world plot going on behind that, but that's nothing new. "Nothing new" seems to describe this movie in a lot of ways, actually. So there, putting it flat out, I'm not excited for this plot in the slightest. I don't see anything wrong with it, you might even call it "tried and true," but it doesn't garner any interest from me. That's probably the closest thing to hate you'll be getting out of me today.
Okay, let's see here, what else? Umm…Eggman's got himself some boss mechs, that's cool…wants to study Sonic, talked about that already…ooh, and he gets his tiny glasses for a hot second. He didn't even have those at the end when he looked transformed into the proper Eggman. Then…Eggman licks Sonic's quill, gets shocked, more eccentricity, then…ooh, here's something.
Warp Rings! That's what I'm talking about! For some strange reason, I've seen a lot of people complaining about how "that's not what rings do in Sonic games," or, even worse, "you may be surprised to know that Warp Rings are actually from the comics where people could use them to teleport between Zones." Oof, that one made me groan. I'm not sure how people missed that Warp Rings are are a recurring element that played pretty important roles in the original Sonic the Hedgehog, Sonic CD, Sonic 3 & Knuckles, and even the recently acclaimed Sonic Mania. A giant floating ring that teleports you to Special Stages. They're all over the place. They're the origin of the even-more-frequent Goal Ring. Rings are not a single-purpose item in Sonic games! But what they are is an unexplored plot element. 20 years of 3D Sonic history, and the only mention of any kind of ring in a story was an offhanded reference to the regular gold rings in Sonic Generations. But now here this movie goes, apparently putting a story behind a gameplay element of the Classic games that even the real games haven't dared venture into. That not even I have dared yet venture into. I'm very impressed, and I'm interested to see where they go with it. Could this be how Sonic got to this planet in the first place? Is our Earth actually just another Special Stage?
Oh yeah, I almost forgot about the whole "planet" thing. People seem to be taking it to mean that Sonic is a space alien, and…sure? I mean, it could be. But it seems much more likely to me that it refers to the typical Sonic X explanation of Sonic's world being different from Earth (which is a planet that is not the planet that Sonic comes from). Either way, at least they'll be putting an explanation to it, instead of randomly deciding that Sonic sometimes has humans and sometimes doesn't.
And look at this! We have another example of Sonic pretending to be The Flash as he goes into "Flashtime," slowing the world around him to a pace that even "the speed of sound" wouldn't be nearly enough to justify. Either Sonic grows exponentially faster as the movie goes on, or they just randomly decided to get him moving at a significant fraction of the speed of light in one scene only. One is inclined to believe the second thing I said. But, on the brighter side, we have a nice nod to Classic Sonic's idle animation. And I can't deny, it looks like a pretty epic scene that shows off a lot of personality as well.
And finally, here's that end clip of Eggman I kept talking about. Goggles on bald forehead, red outfit, long wiry mustache, this is plenty close enough to the Eggman we know. If they spend the movie building up to this, I'm good with that. But wait…that background…is he in Mushroom Hill Zone!?!? Probably not that specifically. But that would be a very satisfying reference if it was.
So, final conclusion? This movie's not exactly my dream come true. In fact, it might even be described as a train wreck. But that won't stop me from seeing it, and, most likely, enjoying every minute of it. There's some weird stuff mixing around, but it can't exactly be called "bad" just yet. So, in the surprisingly apt closing words of the trailer…
-"It smells like body spray and an old ham sandwich."